So, what's in nuud?
nuud consists of only 10 ingredients.
Click on an ingredient to find out more information about what it is, what it does and why it's in nuud.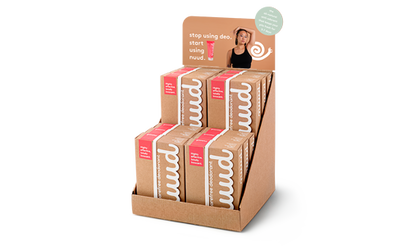 Display - €77,00
12 Starter Packs come with this lovely looking display box for in stores


RRP per Starter Pack: €12.95
Margin: x2.02
Starter Pack - €6.42
A Starter Pack contains one tube of 15ml, enough for about 6 to 8 weeks


RRP: €12.95
Margin: x2.02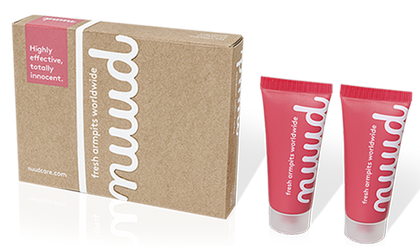 Smarter Pack - €12.37
A Smarter Pack contains two tubes of 20ml, enough for about 18 to 20 weeks


RRP: €24.95
Margin: x2.02
Convince yourself
Want to give it a go yourself first? Send an email to our B2B team at resale@nuud.care, they will send you a free Starter Pack.

While you're here, discover the best way to use nuud:
This is how it works
Sign up using the link below. When that's done, We'll do a quick check and you'll receive an email to activate your account.
When signing up, you choose your preferred payment terms: straight away or after 30 days by bank transfer. You can order nuud online from our wholesale shop, and it's shipped a day later. You'll receive the invoice by email immediately after placing your order.
Delivery times depend on the destination country, but in general 5-10 days within Europe, and 10-15 days for the rest of the world can be expected.
Any questions? We would love to help out.

resale@nuud.care | +31 6 25354022